Back to Injectables
Xeomin®
Xeomin® is a uniquely purified neuromodulator that minimizes fine lines and wrinkles.
01
How does Xeomin work?
Xeomin is a neuromodulator that has a slightly different manufacturing process than its counterparts (Botox, Dysport, Jeuveau). Xeomin consists of an isolated, therapeutic component of botulinum toxin type A. This means that all the accessory proteins that do not play an active role in treatment have been removed.
Xeomin works as other neuromodulators do, by temporarily disabling muscle contractions in the treated area. The reduction of muscle activity helps to reduce dynamic lines and wrinkles, and can also be used for facial shaping.
Expert knowledge of facial anatomy is the key to outstanding results. Precise dose and placement determine the success of the treatment.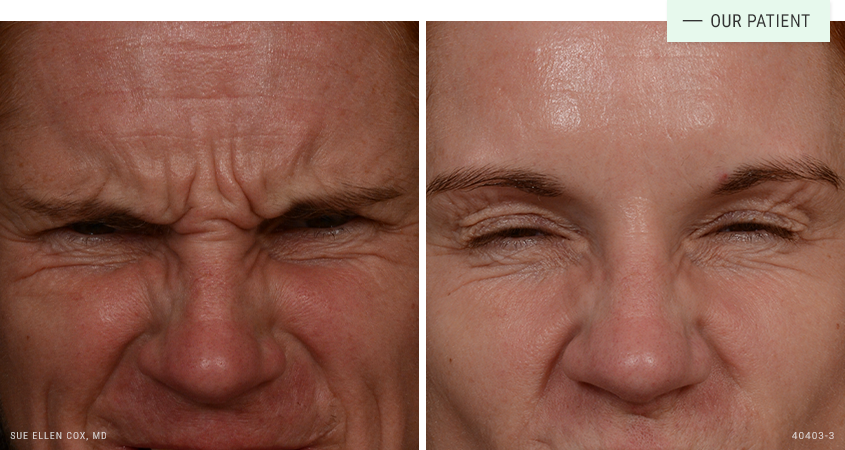 02
Is Xeomin safe?
The FDA has approved Xeomin. Like any surgical or non-surgical procedure, there are risks. As an international teacher and trainer of other physicians in facial anatomy and injection techniques, Dr. Cox stresses the importance of finding an experienced physician who understands the finer points of injectable treatment. Dr. Cox is internationally recognized for her skills as an injector.
03
Xeomin downtime
Xeomin treatments are well tolerated. The treatment is comprised of a series of precise injections with a very small needle. This process only takes a few minutes.
There is no downtime associated with Xeomin. Once the injections are complete, there is typically mild swelling and redness around the pin-prick injection sites. This dissipates within a few minutes.
04
Xeomin results
You will begin to see results from Xeomin within three to four days. Full results will appear two weeks after treatment. Xeomin typically lasts three to four months. One Xeomin treatment will reduce or eliminate dynamic wrinkles in the treatment area. Wrinkles that are etched in (remain visible at rest) will need multiple sessions for optimal results. In the case of etched lines, additional treatment modalities may be needed.