Back to Injectables
Sculptra®
Sculptra is a Poly-L-Lactic Acid (PLLA) filler used to reverse volume loss while stimulating long term collagen production.
01
How does Sculptra work?
Sculptra consists of Poly-L-Lactic Acid (PLLA), which is a synthetic polymer that has been used in the human body since 1960 and as medical suture material since 1970. Sculptra has an immediate volumizing and smoothing effect. Over time, Sculptra results in new collagen production for up to 24 months by stimulating low-level inflammation in the deeper layers of skin. The growth of new collagen helps to maintain initial results from Sculptra over a longer period of time than is typical with HA fillers.
Sculptra has on-label approved areas, but in the hands of a skilled injector can be used elsewhere off-label. In 2019, Dr. Cox began teaching on the use of PLLA for skin tightening and other purposes on the body. For this procedure, Dr. Cox dilutes Sculptra and injects it to areas of concern. The dilution eliminates the filler's ability to add volume but keeps properties responsible for collagen production. Common treatment areas include the neck, chest, arms, abdomen, buttocks and thighs. Dr. Cox also uses Sculptra to treat other concerns on the body, like cellulite or to add volume to the buttocks. Dr. Cox has lectured extensively across the United States and Europe on this new, groundbreaking technique.
In addition, our office frequently uses Sculptra post-laser treatments or microneedling. The micro-injuries from treatment serve as a drug delivery system allowing the Sculptra to penetrate the dermis when applied topically.  This increases collagen stimulation to improve treatment results.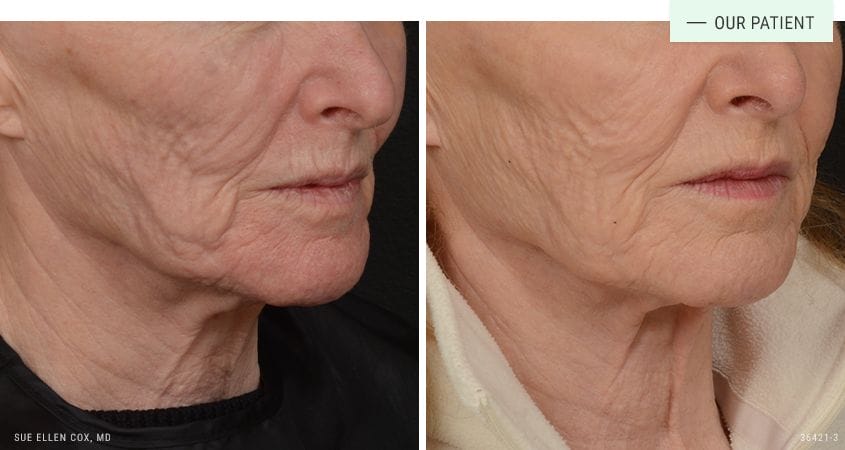 02
Is Sculptra safe?
Sculptra is FDA approved. Like any surgical or non-surgical procedure, there are risks associated with treatment. Dr. Cox stresses the importance of finding an experienced physician who understands the finer points of injectable treatment, especially when using non-reversible fillers.
03
Sculptra downtime
Downtime from Sculptra is minimal. The most common side effects are bruising and swelling at the injection site, which typically resolves quickly. Patients prone to keloid formation or excessive scarring should not seek Sculptra treatment.
04
Sculptra results
Results and duration from Sculptra vary based on the quantity, placement and treatment area. On average, patients can expect results to last 18 to 24 months. A series of sessions produces optimal results.