Back to Injectables
Radiesse®
RADIESSE® is a calcium hydroxylapatite (CaHA) designed to provide immediate volume and support, while also stimulating collagen and elastin production.
01
How does Radiesse work?
Unlike hyaluronic acid (HA) fillers, RADIESSE® is made of calcium hydroxylapatite (CaHA). RADIESSE® is comprised of calcium microspheres in a gel carrier. Once injected, this provides immediate volume and support to the treatment area. Over time, these microspheres form a "scaffold" that triggers fibroblasts to produce collagen. The growth of new collagen helps to maintain initial results from RADIESSE® over a longer period of time than is typical with HA fillers.
Fillers have on-label approved areas, but in the hands of a skilled injector can be used elsewhere off-label. Each filler is best suited for a specific area, concern, and facial anatomy, which is where experience and expertise become important. In 2019, Dr. Cox began teaching on the use of CaHA for skin tightening on the body. For this procedure, Dr. Cox dilutes CaHA and injects it to areas of concern. The dilution eliminates the filler's ability to add volume but keeps properties responsible for collagen and elastin production. Common treatment areas include the neck, chest, arms, abdomen, buttocks and thighs. RADIESSE® can also be used to correct depressions, deformities, and cellulite on the body. Dr. Cox has lectured extensively across the United States and Europe on this new, groundbreaking technique.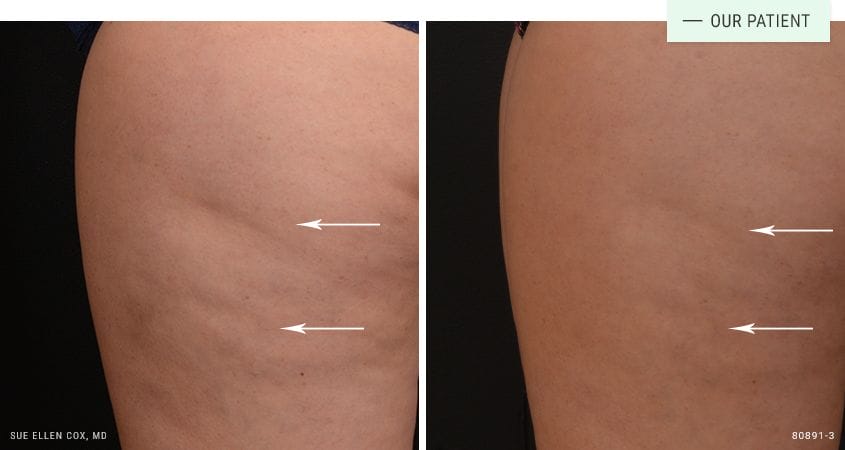 02
Is Radiesse safe?
RADIESSE® is FDA approved for subdermal implantation for the correction of moderate to severe facial wrinkles and folds. Because RADIESSE® is made of calcium hydroxylapatite it cannot be dissolved in the event of a complication or unwanted result. Like any surgical or non-surgical procedure, there are risks associated with treatment. Dr. Cox stresses the importance of finding an experienced physician who understands the finer points of injectable treatment, especially when using non-reversible fillers.
03
Radiesse downtime
Downtime from RADIESSE® is minimal. The most common side effects are bruising and swelling at the injection site, which typically resolves quickly. Dr. Cox will discuss in your consultation ways to minimize bruising and swelling. When used on the body there is no additional downtime.
04
Radiesse results
Results and duration from RADIESSE® vary based on the quantity, placement and treatment area. On average, patients can expect results to last 12 to 18 months. For RADIESSE® to the body, a series of sessions produces optimal results.