Back to Body Contouring
Aveli
Aveli is a procedure that significantly reduces the appearance of dimples and puckering caused by cellulite on the buttocks and thighs.
01
How does Aveli work?
Cellulite is caused by a structural issue in the skin, and occurs in an estimated 85% of women. Bands of connective tissue called septae pull unevenly on the skin's surface from within, causing the appearance of puckering and dimpling. Aveli targets and releases these bands, resolving the structural cause and allowing the skin to once again appear smooth at the surface. During treatment, the Aveli device will be inserted into the area of concern. Individual septae causing cellulite are identified and released. The Aveli device then allows us to verify the cellulite dimple has been cleared. Aveli can be used to target cellulite on the buttocks and thighs. Patients with moderate to severe skin laxity in the treatment area are not a candidate for Aveli.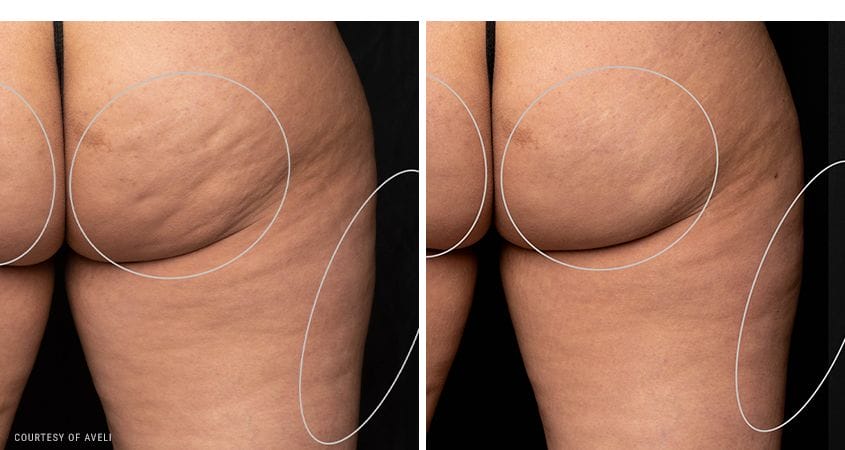 02
Is Aveli safe?
The FDA has cleared Aveli to safely treat cellulite. Because Aveli does involve the manual manipulation of underlying tissue, Dr. Cox stresses the importance of finding an experienced physician who understands the finer points of underlying anatomy.
03
Aveli downtime
Aveli is well tolerated. Prior to treatment, a local numbing agent is administered to minimize discomfort. The procedure usually lasts about an hour. Many patients bring earbuds or headphones and music to listen to during the procedure.
Aveli has minimal downtime. On the day of treatment, we recommend rest following your procedure. While it is possible to return to your schedule the next day, we suggest taking it easy the day after treatment. Tylenol may be taken to manage any discomfort post-procedure. The most common side effects after the procedure are bruising, draining at the small incision sites, mild soreness and tenderness.
04
Aveli results
Aveli significantly reduces the appearance of cellulite dimples on the thighs and buttocks. In clinical studies, patients reported a high percentage of satisfaction, which increased over time. Results appear as swelling and bruising decrease. Most patients are happy with results 30 days post treatment. Aveli is FDA cleared for long-term reduction in cellulite. In clinical trials patients were assessed at one year post treatment, although results may last longer.