Back to Lasers and Devices
RF Microneedling
Radiofrequency Microneedling treats fine lines and wrinkles, sagging skin, acne scarring, pore size, stretch marks and other textural issues. Unlike traditional microneedling, this treatment delivers an improved skin tightening effect and eliminates downtime.
01
How does RF Microneedling work?
Microneedling sometimes referred to as collagen induction therapy, is a minimally invasive way to rejuvenate the skin. The RF microneedling device uses 36 gold-tipped needles to deliver results at 31 different depths. Fast and even insertions are made into the skin while radiofrequency technology delivers heat. The result is a reduction in textural issues and increase in the tightness of the skin.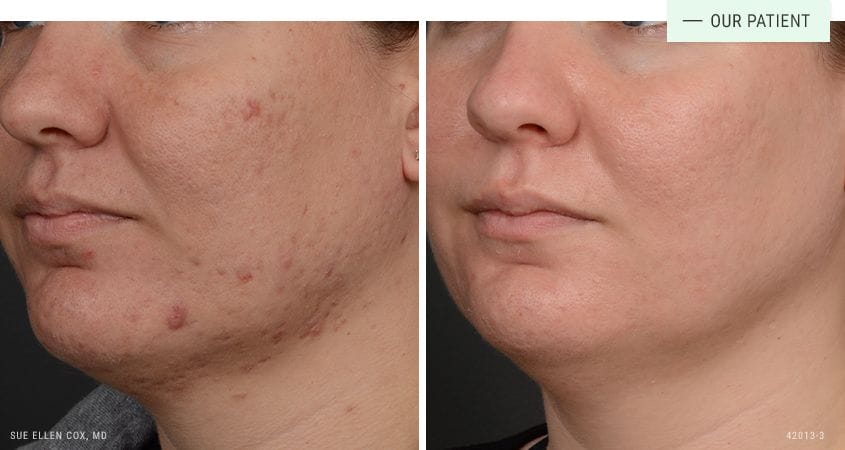 02
Is RF Microneedling safe?
Several devices, including the one we use here at Aesthetic Solutions, are cleared by the FDA and have excellent safety profiles.   Like any surgical or non-surgical procedure, there are risks associated. As a teacher and trainer of other physicians in safe, effective resurfacing procedures, Dr. Cox stresses the importance of finding an experienced provider supervised by a physician who understands the finer points of collagen induction.
03
RF Microneedling downtime
RF Microneedling is extremely well tolerated. As opposed to traditional microneedling, where you may experience redness, flaking or swelling for up to seven days, any redness or discomfort associated with RF Microneedling is typically resolved within a few hours of treatment. The treatment typically takes 30-45 minutes. Numb gel may be applied prior to treatment for more sensitive areas.
04
RF Microneedling results
RF Microneedling produces noticeable improvement of fine lines and wrinkles, acne scarring, sagging skin, pore size, stretch marks and other textural issues. RF Microneedling is most often used on the face and neck, but can treat scarring and stretch marks on other areas of the body. It is possible to treat multiple areas of the skin in a single session. A series of treatments produces the best results.