Back to Homepage
For Physicians
The aesthetic dermatology community in the Triangle is vibrant and growing! We're pleased to share information and educational resources with physicians and other health care professionals to advance state of the art, collaborative care to our mutual patients.
About My Practice
When I moved to Chapel Hill twenty five years ago, I visited physician offices across the Triangle to talk about my focus on aesthetic dermatology. I treasure relationships formed during those early years, and deeply appreciate the referrals. I hope my practice has been the trusted partner and resource I promised it would be. A lot has changed, but I'm still focused on aesthetics, still teaching and conducting clinical trials, and still committed to partnering with you to deliver safe and effective treatments for our patients. My goal for this page is to share information that may be of interest: what we're treating and how, the latest research in my niche, publications you may find useful, upcoming studies at my practice, and places you'll find me or my staff in the coming months. It's a work in progress, so your patience and feedback are most appreciated!
— Sue Ellen Cox, MD
Affiliations
These partners and organizations help us deliver quality care and manage successful practices by investing in education, research and member networking.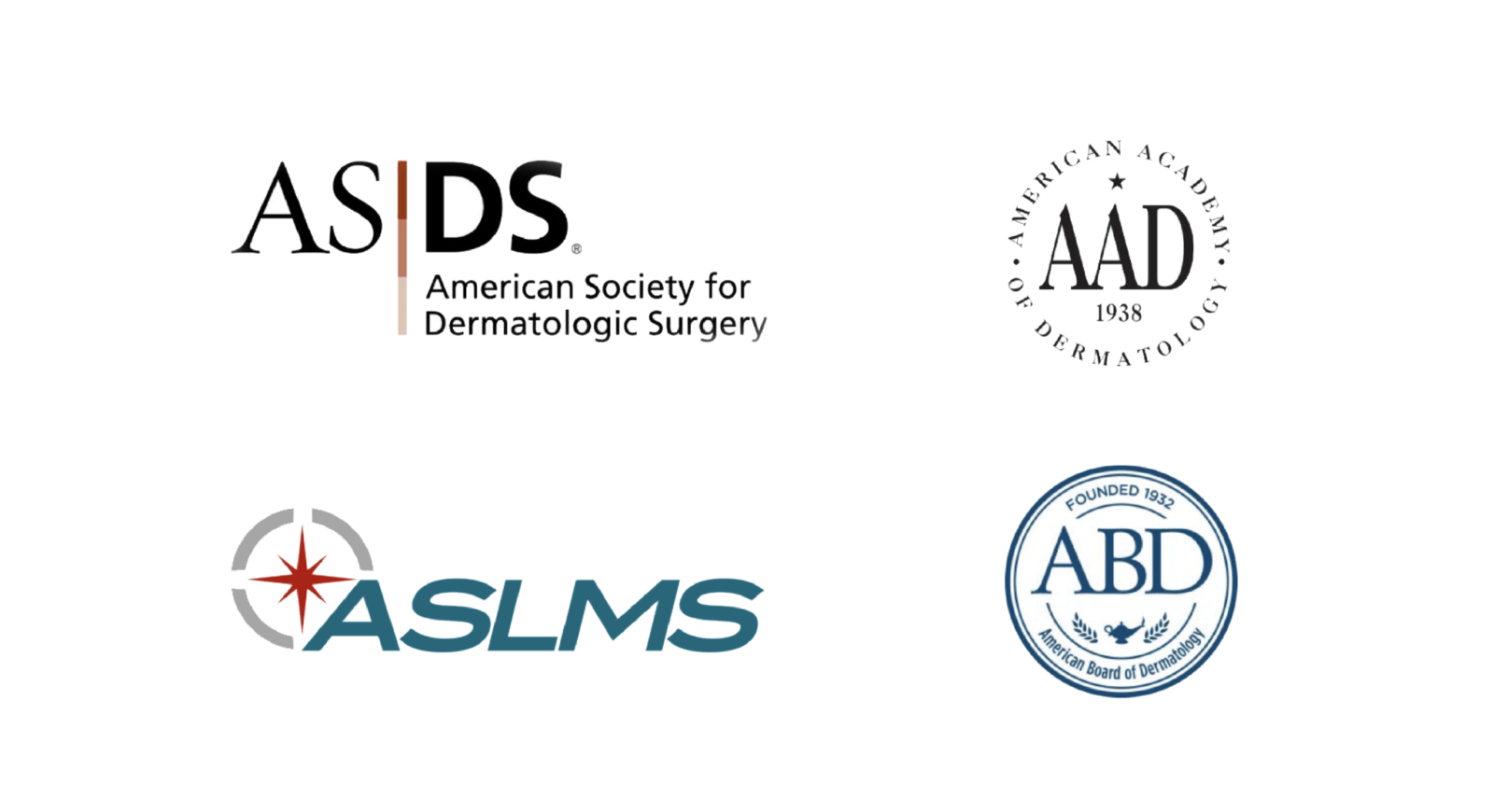 About Dr. Cox
A pioneering thought-leader in aesthetic medicine who just happens to live in Chapel Hill, and be incredibly easy to talk to. Dr. Cox enjoys time with her patients between clinical research and teaching activities.
Meet Dr. Cox
What We Treat
We specialize in treatment of concerns related to aging, sun damage and skin quality, pigment and discoloration. We offer a full range of injectables, laser and devices to meet these needs. Our body contouring center includes non-invasive, injectable and surgical treatments to help patients address areas of localized fat. We treat women and men of all ages and skin types.
Injectables
We carry Botox, Dysport, Daxxify, Jeuveau and a full range of dermal fillers to address common signs of aging, including wrinkles, etched-in lines, creases and folds, loss of volume and projection. Injectables are also used to treat brow position, asymmetry, scarring, dimples, prominent neck bands, excessive sweating and gummy smile. We use injectable PRP for hair loss and thinning, and Asclera in sclerotherapy for spider veins.
Lasers & Devices
We have a comprehensive array of lasers and energy devices to treat common skin concerns. Highly customizable skin resurfacing can address texture, tightening, tone and pigment. Pulse-dye and broadband light devices are available to treat facial redness, vascular lesions, scar discoloration, telangiectasia and rosacea. We can also remove sun spots, brown spots, other pigmented lesions and birthmarks, as well as blue facial veins and unwanted hair. We use thermal technology to treat excessive underarm sweating, radio-frequency for feminine rejuvenation, and ultrasound for tissue tightening.
Body Contouring
Our body contouring center can reduce unwanted localized fat in most areas of the body. This includes the abdomen, flanks, inner and outer thighs, arms, back, and pubis. Bra fat, fullness under the chin, male breasts, and back of the neck can also be treated. We utilize injectable Kybella, non-invasive CoolSculpting and Emsculpt, and surgical tumescent liposuction. Cellulite dimples are treated with Aveli, or in more isolated cases filler.
Spa Services
Our medical spa offers laser hair removal, chemical peels, microneedling, gentle laser resurfacing, clinical facials and dermaplaning. These services can be used to treat acne, acne scarring, skin tone, texture and pigment.
Skincare
We stock a wide selection of clinically-proven, medical-grade skincare products with growth factors, stem cells, exfoliants, antioxidants, zinc-based sun protection and other proven, high quality components.
Research
Our research activities are focused on aesthetics, with emphasis on dermal fillers and neuromodulators. Over 40 studies have been performed here in the office. The clinical trials offer an early look at where the pharmaceutical and device companies are headed, what's coming, and just as important, the opportunity to provide physician feedback in the development process. Consulting on scale development has increased significantly in the last couple of years, suggesting the pace of innovation and label expansion is accelerating. Studies tend to fill quickly, and usually with our own patients, though participation is open to anyone in the Triangle area. Ironically, increased public acceptance of aesthetics can make it harder to meet exclusion criteria requiring participants without recent treatment.
You'll find information on current and upcoming studies below. We're happy to share non-confidential information, so let us know if you have any questions. Interested patients can sign up to receive study enrollment notices on our Clinical Studies and Research page.
Recent Studies
Jawline Filler 2309-99
Status: Enrolling Now
This is a randomized, blinded evaluator, No-Treatment control, multicenter, prospective clinical study, to identify whether a currently FDA approved filler is superior to No-Treatment for the correction of moderate to severe sagging jawline 12 weeks after last treatment (initial or touch-up).
Belly Fat 2309-100
Status: Enrolling Now
Leading the way through clinical research.
We are privileged to advance state of the art in aesthetic medicine. Our research activities are focused on aesthetics, with emphasis on dermal fillers, neuromodulators and body contouring.
100 Clinical Studies
83 Peer Reviewed Publications
Publications
There's no shortage of material to read, and I expect many of you receive the same publications I do. I focus on peer-reviewed materials, both reading and writing. I want to guide my patients with the best, evidence-based information available, and try to do my part to contribute to that knowledge base. I've listed a few of my publications below, and included a link to download the pdf (if available). Talking with colleagues about recent developments and clinical practice has been invaluable to me over the years, so if you see something that piques your interest, please don't hesitate to get in touch.