Back to Injectables
Daxxify
Daxxify is an FDA approved neuromodulator with a six month duration. Daxiffy can be used to treat fine lines and wrinkles, as well as facial symmetry.
01
How does Daxxify work?
Daxxify™ is the first and only neuromodulator stabilized with Peptide Exchange Technology™ (PXT) and is free of both human serum albumin and animal-based components. Daxxify™ safely and temporarily blocks nerve impulses from entering the muscle to reduce its activity. When a muscle is no longer contracting, it reduces the wrinkling you would normally see when making an expression.
Daxxify™ can also be used to create facial symmetry or for facial shaping. Common treatment areas include elevating the brow, jawline slimming, reduction of TMJ pain, reversing downturned lips or a downturned nasal tip, uneven eye size or a "jelly roll" under the eye, correcting a "gummy smile" or "bunny lines", and reducing neck bands.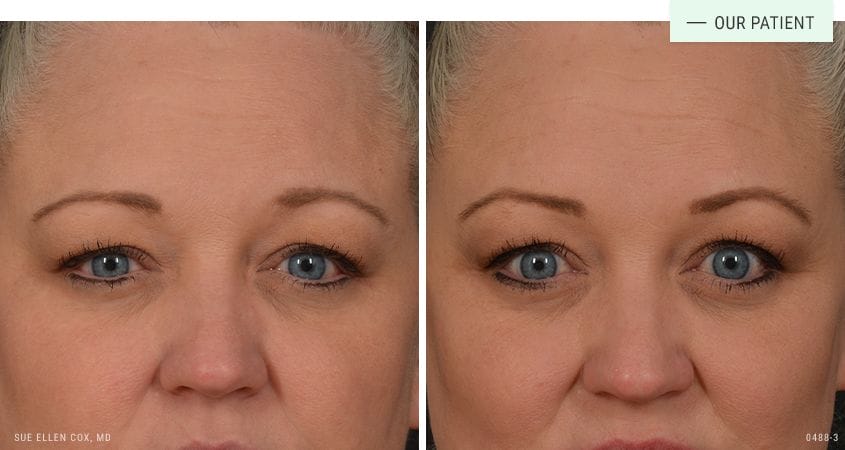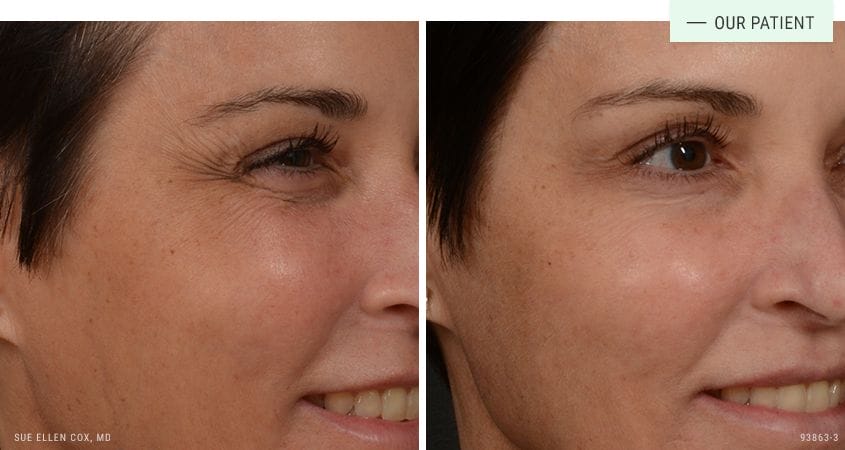 02
Is Daxxify safe?
The FDA has approved Daxxify™ to safely treat wrinkles. Like any injectable procedure, there are risks. Knowledge of anatomy, precise dosage and placement determine success of the treatment. Dr. Cox stresses the importance of finding a board certified, experienced physician who understands the finer points of injectable treatment. Clinical trials for Daxxify™ were conduced in our office, giving staff early experience with the product.
03
Daxxify downtime
Daxxify™ treatment is well tolerated. The treatment is comprised of a series of precise injections with a very small needle. This process only takes a few minutes. Patients often compare the feeling to having their eyebrows plucked.
There is no downtime associated with Daxxify™. Once the injections are complete, there is typically mild swelling and redness around the pin-prick injection sites. This dissipates within a few minutes.
04
Daxxify results
You will begin to see results from Daxxify™ within a few days. Full results will appear two weeks after treatment. Daxxify™ typically lasts six months. In clinical studies, some patients were satisfied with results for up to nine months post treatment. One Daxxify™ treatment will reduce or eliminate dynamic wrinkles in the treatment area. Wrinkles that are etched in (remain visible at rest) will need multiple sessions for optimal results. In the case of etched lines, additional treatment modalities may be needed.
Related Clinical Trials
New Neuromodulator 1611-55
Dr. Cox recently completed work as principal investigator for the study "A Phase 3, Randomized, Double-Blind, Placebo Controlled, Multi-Center Trial to Evaluate the Efficacy and Safety of DaxibotulinumtoxinA for Injection to Treat Moderate to Severe Glabellar Lines"  This is another new, Botox-like product seeking registration for treatment of vertical lines between the eyebrows.  This is the third new product in as many years looking to displace market leader Botox in the treatment of facial lines.  Adding already registered Dysport and Xeomin to the mix means we'll eventually have six (or more) injectables for treating facial lines.  Each of the products is unique in some way, and we've really enjoyed working with the manufacturers to identify which patients will most benefit from the characteristics of their product.  It's an interesting time in aesthetic medicine!   This study began in November 2016 and finished in December 2017.
New Neuromodulator 1706-56
Dr. Cox completed work as principal investigator in this follow-up to a recently completed study.  The follow-up "An Open Label, Multi-Center Trial to Assess the Safety of Single and Repeat Treatments of DaxibotulinumtoxinA for Injection for Treatment of Moderate to Severe Glabellar Lines" is an unblinded study with multiple treatments.   This new, Botox-like product is seeking registration for treatment of vertical lines between the eyebrows, and may eventually be the sixth injectable used to treat facial wrinkles and lines.  Each will be unique in some way, patients working with skilled injectors will benefit from the ability to match product characteristics to individual anatomy. It's an interesting time in aesthetic medicine!   This study started in June 2017 and ended in December 2018.