Back to Injectables
Jeuveau®
Jeuveau is a neuromodulator that minimizes fine lines and wrinkles and can also be used for facial shaping.
01
How does Jeuveau work?
Jeuveau is comprised of a naturally-occurring, purified protein. When injected, Jeuveau safely and temporarily blocks nerve impulses from entering a muscle to reduce it's activity. When a muscle is no longer contracting, it reduces the wrinkling you would normally see when making an expression.
In addition to on-label uses, Jeuveau can be used to create facial symmetry or for facial shaping. Common areas for Jeuveau treatment include elevating the brow, jawline slimming, reduction of TMJ pain, reversing downturned lips or a downturned nasal tip, uneven eye size or a "jelly roll" under the eye, correcting a "gummy smile" or "bunny lines", and reducing neck bands.
Expert knowledge of facial anatomy is the key to outstanding results. Precise dose and placement determine the success of the treatment.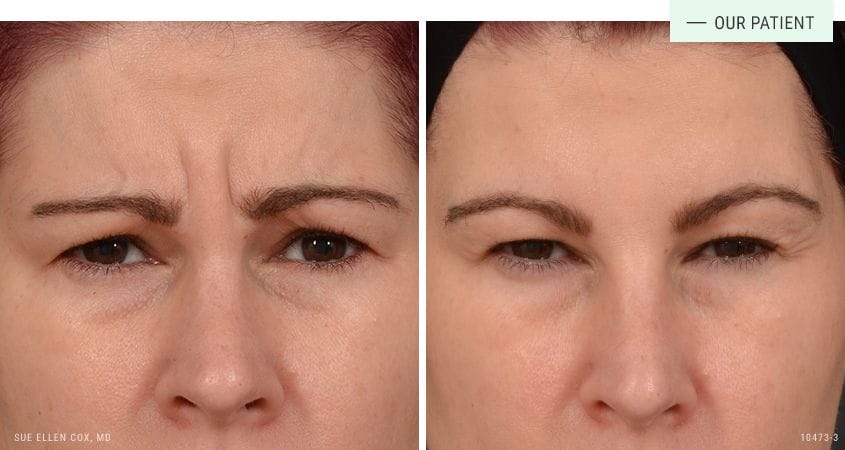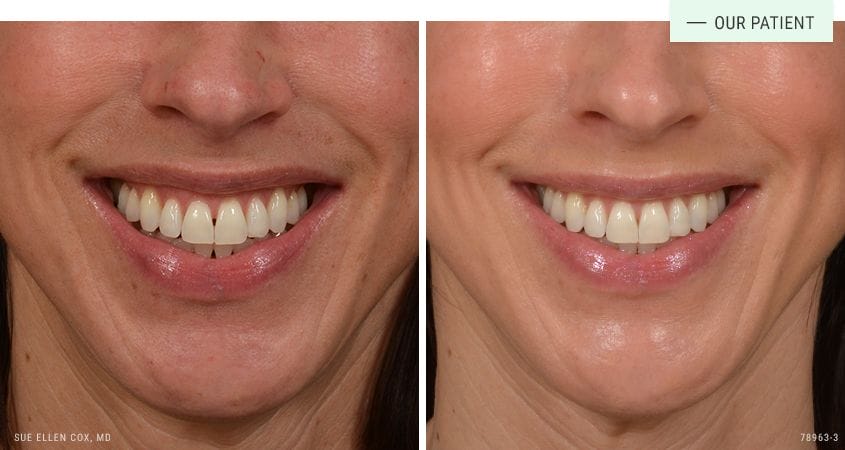 02
Is Jeuveau safe?
The FDA has approved Jeuveau. Like any surgical or non-surgical procedure, there are risks. As an international teacher and trainer of other physicians in facial anatomy and injection techniques, Dr. Cox stresses the importance of finding an experienced physician who understands the finer points of injectable treatment. Dr. Cox performed clinical trials for Jeuveau right here in Chapel Hill and is internationally recognized for her skills as an injector.
03
Jeuveau downtime
Jeuveau treatments are well tolerated. The treatment is comprised of a series of precise injections with a very small needle. This process only takes a few minutes. There is no downtime associated with Jeuveau.
04
Jeuveau results
You will begin to see results from Jeuveau within three to four days. Full results will appear two weeks after treatment. Jeuveau typically lasts three to four months. One Jeuveau treatment will reduce or eliminate dynamic wrinkles in the treatment area. Wrinkles that are etched in (remain visible at rest) will need multiple sessions for optimal results. In the case of etched lines, additional treatment modalities may be needed.
Related Clinical Trials
New Neuromodulator 1410-36
Dr. Cox was principal investigator for the study A Multi-Center, Randomized, Double Blind, Placebo-Controlled, Single Dose, Phase III Pivotal Trial to Demonstrate the Safety and Efficacy of Jeuveau in Adult Subjects for Treatment of Moderate-to-Severe Glabellar Lines."   This new product, similar to Botox, will be introduced soon.  With companies developing similar products with slightly different characteristics, the skill and experience of the injector will become even more important in getting the results you want in the most economical manner.  Our thanks to the Triangle residents who participated in this study.  You got an early look at this exciting new product, and hopefully learned a bit about clinical research in the aesthetic industry.  The study was performed October 2014 through November 2016.
New Neuromodulator 1404-39
Dr. Cox was principal investigator in the study "A Multi-Center, Open Label, Multiple Dose, Phase II Trial to Demonstrate the Safety of Jeuveau in Adult Subjects for Treatment of Moderate-to-Severe Glabellar Lines."  This was a follow-up to an earlier study, evaluating multiple treatments in an unblinded study.  The product is coming to market soon, and when it arrives, the most experienced injector in the southeast will be right here in Chapel Hill!  Thank you to all the Triangle residents who helped us bring this exciting new Botox-like product to market.  The study was performed April 2014 to March 2017.
Glabellar Neuromodulator 2204-84
This study compared the safety and duration two previously approved FDA neuromodulators (Jeuveau and Botox) when different dosages are used. Dr. Cox served as principal investigator. This study began in April of 2022 and ended in August of 2023.