Back to Blog
Q&A with Dr. Cox: Timing Fraxel Laser Treatment
Fraxel Dual laser treatments are among the most popular procedures at our practice. Patients often ask us about timing Fraxel and other skin resurfacing treatments. We sat down with Dr. Cox to discuss the range of factors to consider.

Q: First a quick refresher of the treatment itself – what exactly is
Fraxel Dual Laser and how does it benefit the skin?
Fraxel Dual is a laser procedure that is FDA-approved to treat sun damage, acne scarring, and fine lines and wrinkles, as well as pigmentation issues like age spots, sun spots and melasma. It's an excellent way to treat sun damage, while building collagen and slowing the overall aging process. Fraxel Dual can help patients of all ages and skin types. It is most popular on the face, neck, chest, arms and hands, but may be safely used on most surfaces of the body. Other resurfacing lasers like the Halo Pro can also provide great results.
Q: Why is Fraxel Dual most popular in cooler weather?
Sun damage can occur at any time of the year, but we typically accumulate the most during the summer months. There is no substitute for protecting your skin from the sun, but Fraxel Dual is an effective way to give your skin a clean slate after a few too many summer days by the pool or at the beach. It is approved by the FDA to treat dark spots caused by the sun, including pre-cancerous actinic keratosis, as well as the signs of photo-aging, such as fine lines and wrinkles.
While it is possible to get Fraxel Dual in the summer, extra precautions are necessary in the weeks following treatment. It is essential to avoid sun exposure while your skin recovers from laser resurfacing. If you do opt for Fraxel during the warmer months, make sure you'll be able to spend several days immediately after the treatment inside, and then have the discipline to practice good sun prevention habits for the rest of summer, like wearing hats and high-quality sunscreen.
Q: How does recovery factor in to scheduling?
Fraxel Dual requires four to five days of downtime during which pigment rises to the surface of the skin, and itching, flaking and dryness is common. We affectionately call it the "baked potato" look. We consider this "social downtime" – you are physically able to go about your normal routine, but may want to take time off from professional and personal obligations. It's best to schedule Fraxel Dual laser treatment at least two weeks in advance of major event. This is another reason fall is popular for timing Fraxel – it allows ample recovery time before the holidays.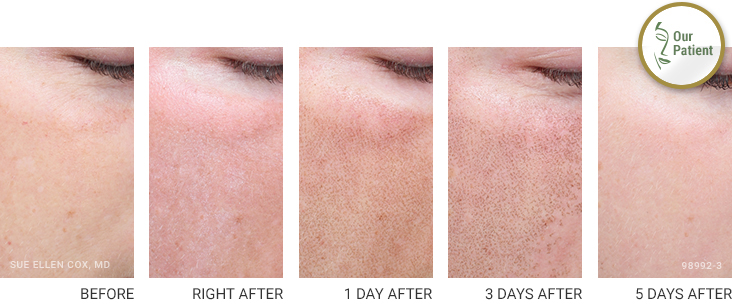 Q: Are there alternatives if downtime isn't an option?
If downtime is hard to manage, another option is a series of less intensive treatments. Clear + Brilliant is a similar laser treatment that we sometimes call a "baby Fraxel" or "mini Fraxel." Clear + Brilliant has no downtime, and a series of five treatments can produce similar effects. Microneedling with the Collagen PIN is another great alternative. Microneedling works similarly to laser resurfacing treatments, but uses tiny sterile pins rather than light energy to create micro-injury zones. Like Clear + Brilliant, a series is recommended to produce optimal results.
Q: What can be done in between laser resurfacing treatments?
Sun damage prevention is the best way to maintain your results and protect your investment. I recommend all my patients use a good physical-blocking sunscreen containing Zinc Oxide and Titanium Dioxide, as well as antioxidants to minimize sun damage.
_
If you have any questions or are interested in learning more about Fraxel, get in touch. We can be reached by phone at (919) 289-4645 or by email at appointments@aesthetic-solutions.com. And stay tuned to learn more about our Halo Laser and BBL, available to patients soon!