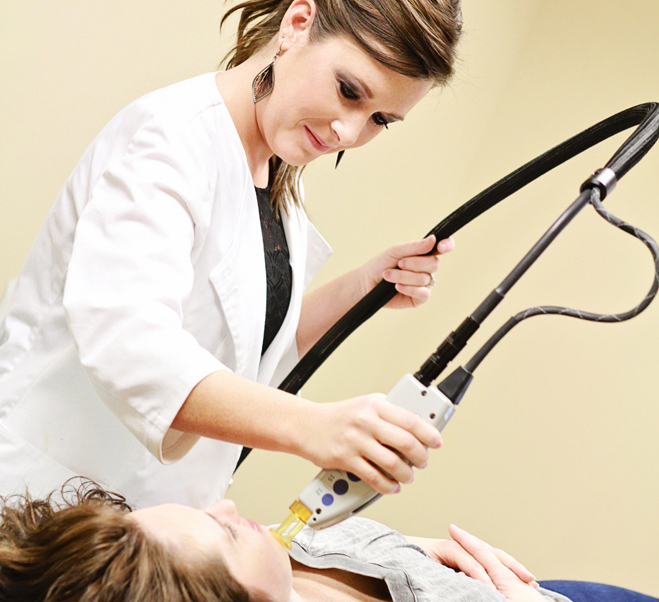 Laser hair removal is one of the most common cosmetic treatments. Aesthetician Lead and laser hair expert Kim Forster weighs in on frequently asked questions about this procedure.
Q: What hair can be treated – and what can't?
Laser hair removal is effective for any darker-colored hair. We can treat unwanted hair on the face and neck, arms and underarms, chest and breasts, abdomen, back, anywhere in the "bikini area" including the buttocks and around the anus, legs, feet — and anywhere else you have darker-color hair! We use the GentleMax Pro laser, which treats all skin tones and types, and is effective for men and women.
Laser hair removal cannot treat lighter-colored hair, including white, gray, blonde and red hair. We also avoid areas very close to the eyes. Pretty much everything else is fair game.
Q: Does the treatment hurt?
Over 1 million laser hair removal procedures were performed in 2015 in the US, according to ASAPS. We sometimes joke that the procedure wouldn't be this popular if it wasn't effective and relatively easy to tolerate! That said, certain areas of the body are more sensitive than others. You may experience some discomfort depending on the treatment area and your personal level of sensitivity. It's important to do your homework and select an experienced Aesthetician who can minimize your discomfort by helping you understand what to expect, and performing the treatment safely and quickly.
Q: How soon will I see results?
Initial results are visible about 2 weeks after treatment. On the day of treatment, the laser destroys or weakens the hair follicles in the treatment area. Over the course of about two weeks, the remaining portion of the hair shaft will rise to the surface of the skin and fall out. This can sometimes look like the hair is "growing," but in reality, the follicle is disabled and this is an expected part of the treatment.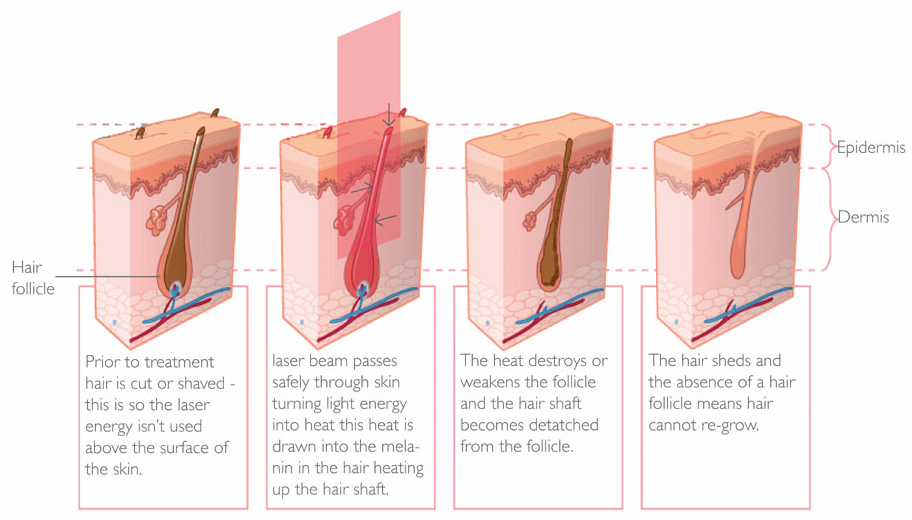 A series of these treatments, typically spaced 4-6 weeks apart, is required for a permanent reduction of hair. The number of treatments depends on the area and how your body responds to treatment. During your consultation, we will discuss the number of treatments you can expect for each area. It's actually a great idea to get started in the winter months, so you'll be able to enjoy your full results by the time warmer weather rolls back around.
Q: Can it help with ingrown hair?
Yes. Ingrown hair occurs when hair grows back into the skin, resulting in irritation and inflammation. It is especially likely to occur as hair grows back after shaving, plucking, waxing or use of depilatory creams. Ingrown hair can be painful and embarrassing, drawing attention to an area where we're already bothered by unwanted hair. By eliminating hair growth, we eliminate the potential for ingrown hair to develop.
—
If you have any questions, or are interested in learning if might be right for you, get in touch. We can be reached by phone at (919) 289-4645 or by email at appointments@aesthetic-solutions.com.