"The amount of time and money that go into fixing damaged skin can be substantially reduced by using a consistent, medical-grade skincare routine" – Dr. Sue Ellen Cox
Medical Grade vs Over The Counter Skincare
Is skincare sold in a physician's office really any different than what you can get at a department store like Nordstrom? The short answer is yes. Here's why:
Skincare sold in our office has extensive research, clinical trial evidence and is peer-reviewed and published in reputable scientific journals to support the product's safety and efficacy. When you buy medical-grade skincare you can rest assured knowing it's safe and better yet – it works.
Over-the-counter skincare often has lesser amounts of less stable ingredients, which means the product may just be sitting on top of the skin, creating a silky-smooth feeling but unable to affect change on a cellular level. When purchasing skincare always make sure the ingredients you are looking for are at the top of the list. A great example of this is the popular medical-grade product SkinCeuticals C + E Ferulic vs Sephora brand Ultra Glow Serum: Glow + Strengthen Vitamin C + E Serum. Both serums claim to have Vitamin C and Vitamin E to protect the skin from free radicals. Let's look at the ingredients:
Sephora – Water, Propanediol, Pentylene Glycol, 1,2-Hexanediol, PEG-40 Hydrogenated Castor Oil, Carbomer, Glycerin, Ribose, Vaccinium Myrtillus Fruit Extract, Sodium Hydroxide, Glyceryl Caprylate, Caprylyl/Capryl Glucoside, Saccharum Officinarum (Sugar Cane) Extract, Fragrance, Citrus Aurantium Dulcis (Orange) Fruit Extract, Citrus Limon (Lemon) Fruit Extract, Panthenol, Acer Saccharum (Sugar Maple) Extract, Chlorella Vulgaris Extract, Helianthus Annuus (Sunflower) Seed Oil, Ascorbyl Glucoside, Tocopherol, Capsicum Annuum Fruit Extract, Rosmarinus Officinalis (Rosemary) Leaf Extract
SkinCeuticals – water, ethoxydiglycol, ascorbic acid, glycerin, propylene glycol, laureth-23, phenoxyethanol, tocopherol, triethanolamine, ferulic acid, panthenol, sodium hyaluronate
Each of the 12 ingredients in the SkinCeuticals Vitamin C has a purpose. Ascorbic acid (Vitamin C) is listed as the third ingredient, behind water and ethoxydiglycol which is used as a solvent. As for the 24 ingredients listed in the Sephora version, Citrus Aurantium Dulcis (Orange) Fruit Extract is the 15th ingredient and the first to contain some Vitamin C. See how low on the ingredient list it is – even placed behind fragrance! Also, notice how most of their ingredients are extracts. This means they include many ingredients, whereas medical-grade products separate ingredients out so you know exactly what you are getting.
Where should you buy skincare?
There is a surprisingly large market for counterfeit medical-grade skincare products. Buying skincare from a physician ensures the product is stored in proper conditions and has not been tampered with. While there are a few reputable online sources of quality skincare, much of what is advertised is later found to be expired, improperly stored, adulterated or genuinely fake product. Severe allergic reactions have occurred, so know your source.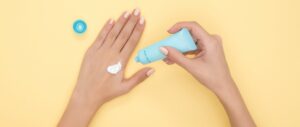 View Medical-Grade Skincare Online
Properly sourced, stored, and vetted by Dr. Cox to achieve the best results, view our medical-grade skincare products online.
Browse Skincare
What is a good skincare routine?
Now you know where to buy skincare, but what do you need and is it age-specific? Other than exercising caution for those under age 18, there are no rules on when to use what. Because medical-grade skincare is rich in active ingredients, we always recommend a skin health evaluation to ensure you are matched with products that will meet your goals.
A Good Skincare Routine
You may not have time for a 12-step morning skincare routine, we get it. To do your best at maximizing protection while treating existing damage we recommend investing in 3 products.
1. Vitamin C. Have you ever played the game Pacman? Think of your vitamin C like that – behind the scenes, scavenging free radicals from environmental damage and disposing of them before they can do harm. This is your second line of defense from the sun behind sunscreen. Vitamin C also promotes collagen production, prevents and treats discoloration, improves texture and brightens the skin.
This should be used in the morning only, after you cleanse and before sunscreen. We suggest applying to the face, neck, chest and hands.
2. Sunscreen. No, we don't mean the spray on sunscreen you lather on at the beach. Every day (even when it's cloudy, raining or snowing) you should be using a medical-grade sunscreen on your face. Even if your make-up contains sunscreen, trust us, you need a sunscreen.
Using sunscreen every morning is the easiest, most inexpensive way to prevent aging. Make sure you are using a sunscreen that contains Zinc Oxide and Titanium Dioxide to get protection against UBA and UVB rays. Many newer sunscreens also protect against IR damage (like from your cell phone or computer). This is your last step each morning before make-up.
3. Vitamin A. The absolute gold standard in anti-aging, Vitamin A speeds skin cell turnover to help with just about every aging problem in the book. There are many forms of Vitamin A, some of which require a prescription (Retin-A, Tretinoin). If you are just getting started out with one we would recommend a retinol (non-prescription) medical-grade product, as it will cause less irritation. As your skin adjusts you can try alternatives. This should be used at night only after you cleanse.
A Better Skincare Routine
You've been doing the basics and are ready to step it up a bit. In addition to your Vitamin C, Sunscreen and Vitamin A consider adding in:
1. Cleanser. Your drugstore cleanser is doing fine, but investing in a medical-grade cleanser will give you added antiaging benefits and keep essential moisture agents in your skin. Always cleanse morning and night before applying your products.
2. Eye Cream. The skin around the eyes is thin and delicate, very different from the rest of the face. Medical-grade eye creams have been safety tested with ophthalmologists, an important step when it comes to your eyesight. Pump a rice grain size into your ring finger, pat together with the ring finger of your opposite hand, and tap along the bone under each eye. Use as directed, typically morning and night.
3. Growth Factor / Peptide. Consider adding in a growth factor or peptide to stimulate collagen. Collagen production begins declining in your 20s. These products are made to help your body produce new, healthy collagen to help with sagging skin.
The Best Skincare Routine
You've built out an impressive skincare collection, and now you're ready to add some specialty products. We suggest:
1. Neck Cream. Just like the eyes, the skin on the neck is different than the rest of the face. Rather than using your face cream on the neck, consider investing in a neck specific cream. Use as directed, typically morning and night.
2. A pigment product. Consult with a physician on the best product for you if you want to further address discoloration like reds, yellows and browns.
3. A body product. Just like you need to take care of your face, we suggest an exfoliating lotion for the body. This will help with crepey skin and bumpy or uneven texture.