Back to Blog
Q&A with Dr. Cox: The History & Future of Filler
Dr. Cox is one of the world's leading experts on pan-facial filler, frequently speaking on injection technique and safety, and conducting 26 (and counting) clinical trials leading to development of numerous injectables. We sat down with her to get the scoop on the history and future of filler treatment.
Q: Let's start by reviewing the basics – what is dermal filler?
Dermal fillers treats volume loss and the formation of lines and creases – major culprits of facial aging. As we get older, the facial fat pads that give us an uplifted, youthful appearance thin and drift downward. Meanwhile, the elasticity and plumpness of the skin's surface degrades. This is a normal part of aging that ultimately results in hollowing of the upper face, deep creases in the lower face, thinning lips and loss of jawline definition. Aging is not for the faint of heart!
When strategically placed by an aesthetic physician, filler restores volume, softens creases and redefines contours. The result is a refreshed, subtly reinflated look. Although we often focus on the face, filler can be used in other areas such as the hands, chest – even to address cellulite dimples in the buttocks and thighs!
Q: What is the history of this kind of treatment?
Medical use of dermal filler stretches back to the late 1800's, when a physician by the name of Dr. Gustav Neuber published work on the transfer of fatty tissue to revolumize the face. This basic approach was still popular some 20 years ago when I began offering fat transfer as part of liposuction treatment. Fat-transfer can produce great outcomes, but duration of results can be unpredictable and fat must first be extracted from elsewhere in the body, making treatment fairly intensive.
In the search for a more predictable product, various forms of injectable collagen were developed. These products could effectively treat lines and creases, but results were short-lived. The real breakthrough came in 2003 with the FDA approval of hyaluronic acid based filler. Hyaluronic acid, a substance that occurs naturally in the body, is more effective and durable than any prior option. Clinical trials for many of these fillers (Juvéderm, Juvéderm Voluma, Restylane and Restylane Silk) were conducted in my office. We were impressed, and so were our trial patients!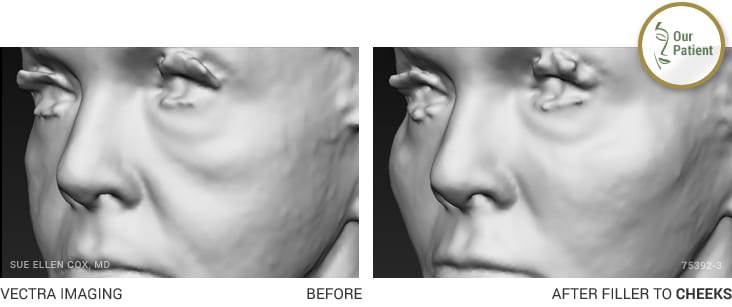 Q: What are the strengths and limitations of today's dermal fillers?
In evaluating the popularity of minimally-invasive procedures in the US, a recent survey shows that soft tissue fillers are second only to neuromodulators like Botox — and for good reason! In the hands of an expert, these products significantly reduce the signs of aging and require little or no downtime. Many of my patients think of it as maintenance that puts off surgical cosmetic work, sometime indefinitely.
That said, patients must understand that results build over time, and are rarely as dramatic as a facelift. Filler is excellent for issues caused by volume loss, but is typically not appropriate for advanced sagging or loose skin.
Q: What is the future of filler? What are you most excited about?
There's a lot to be excited about. I helped to develop a series of scales that were recently published in Dermatologic Surgery. Currently, fillers are FDA approved for treatment in a limited number of areas. These scales will allow the FDA to expand on-label use by evaluating filler in vertical forehead lines, hollow temples, under the eyes, in the chin and in horizontal neck lines neck.
New natural-looking, longer-lasting fillers are also in the works. One new product called Vobella will be in our office in mid-October, earlier than anywhere else in the Triangle. This product is especially effective for fine, etched-in lines around the mouth. Clinical trials show that it lasts up to a year, significantly longer than other filler for that area. Looking a little further ahead, Emervel, a suite of five filler from Galderma product, is expected out sometime next year. And certainly, more exciting products are in development. Stay tuned!