Back to Blog
Q&A with Dr. Cox: Body Contouring Under the Chin

Double chin. Neck fat. "Submental fullness." Whatever you call it, there are more options for treating this area than ever before. For our Q&A this month, Dr. Cox discusses the options.
Medically speaking, what is a "double chin?"
In dermatology, we sometimes use the phrase "submental fullness." This describes the protrusion of fatty tissue stored under the jawbone. This fatty tissue obscures the appearance of the natural jaw line. It may be compounded by the presence of loose skin, especially as we age.
What causes a double chin?
In general, bulges of excess fat are associated with being overweight. Fat under the chin, however, is more likely than other areas to be caused by heredity and other factors. Weight certainly plays a role, but this area is also very slow to respond to lifestyle changes and weight loss. This is part of the reason my patients find it so frustrating, and begin to explore body contouring options.
What are the options for reducing the appearance of double chin?
In all cases, we start by recommending a healthy lifestyle and reaching a stable weight. If you have reached that point and are still bothered by excess fat under your chin, there are several great options for body contouring treatments, including Kybella, CoolSculpting and Liposuction.
Kybella (before and after shown below) is an injectable product that treats "double chin" fat with little or no downtime. As a principal investigator in the clinical trials for Kybella, I was impressed by the safety profile and results of this quick treatment. Kybella contains deoxycholic acid, a molecule that occurs naturally in the body and aids in the breakdown and absorption of fat. When injected in strategic locations, the fat cells under the chin die and are naturally removed by the body. Once removed, the fat cells are gone for good, and the area is prevented from accumulating or storing fat.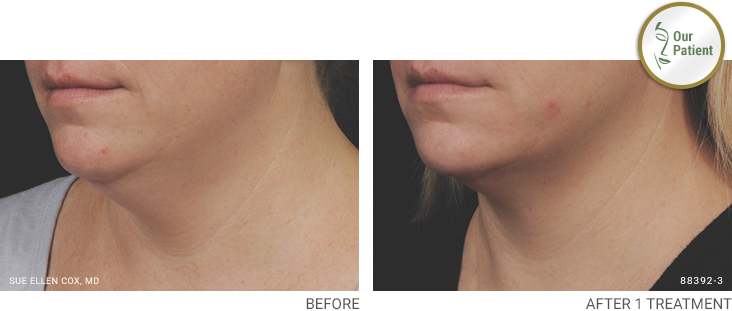 CoolSculpting is another great option. This treatment uses controlled cooling to target and destroy fat cells without damaging skin or other tissue. It is completely non-invasive and reduces fat in the treated area by about 20-25% per treatment. CoolSculpting can treat fatty bulges in many areas of the body, but the new "CoolMini" applicator was specifically designed to treat small areas like under the chin.
For larger amounts of fatty tissue under the chin, Liposuction can be the best option. Liposuction is performed by inserting a thin stainless steel tube through a small incision in the skin and carefully removing the fat. Today, Liposuction can be safely performed through very small incisions, without IV sedation, reducing downtime and evidence of treatment.
Will it be obvious that I've had something done?
One of the things my patients like about Kybella and CoolSculpting is that the results develop gradually, over 4 to 12 weeks. This means that there is no sudden change to explain, and it can be easier to maintain your privacy. Kybella can produce pinprick bruising at the injection site, but it is rarely noticeable. Swelling also typically occurs following Kybella. This swelling can be significant but is temporary, and I find that patients are usually far more aware of this than anyone else would be. CoolSculpting also involves the chance of minimal bruising and swelling. It is typically milder than with Kybella. Winter can be a good time to get these treatments because you can wear a scarf for the first few days if you're feeling self-conscious.
Liposuction produces swelling and bruising and also involves more extensive post-care. The tradeoff is that results may be more dramatic and appear faster. Each treatment has different advantages that make it better suited to different patients and goals. As with any treatment, a consultation is necessary to properly assess the treatment area and determine your best option.
What about loose skin?
In some patients, loose skin and crepey skin texture may contribute to the appearance of protrusion under the chin. Kybella, CoolSculpting and Liposuction are all FDA approved to reduce fat, but do not typically produce tissue tightening. To achieve an improvement in laxity and texture, laser procedures like Fraxel, Halo, SkinTyte and Ultherapy may be effective. In more advanced cases, I recommend surgical options like a neck or facelift.
Whether you're bothered by fatty tissue under the chin, loose skin, or a combination, there are more options than ever to safely address the issue with minimal downtime. When you're ready, the next step is scheduling an appointment with a board-certified dermatologist who can help you understand your options.